When you need a jobsite trailer or instant office space, what could be faster and easier than having a portable office trailer delivered right to your site?
In nearly every industry – construction, commercial, industrial, institutional, hospitality, healthcare, government – there is a need for more space from time to time, but budgets and deadlines can be tight. Portable trailers provide a quick solution at a fraction of the cost of any other option. They can be used anywhere you need temporary space, but can also be used as a long-term solution.
"Ready-to-roll" office trailers are ideal for:
Construction jobsite offices
Administrative offices
Mobile or temporary sales offices
Field offices or labs
Swing space
Security offices
Temporary teaching space
Training offices
Media centers
Lounges or dining facilities
Plant shutdowns
Special events
Factory-made modules are designed, engineered, fabricated and transported to your site for assembly to create the space you need in a very short time. Any required foundations and site preparation (e.g., utilities, if any) can be done while the modules are being built to save time and meet your occupancy deadlines.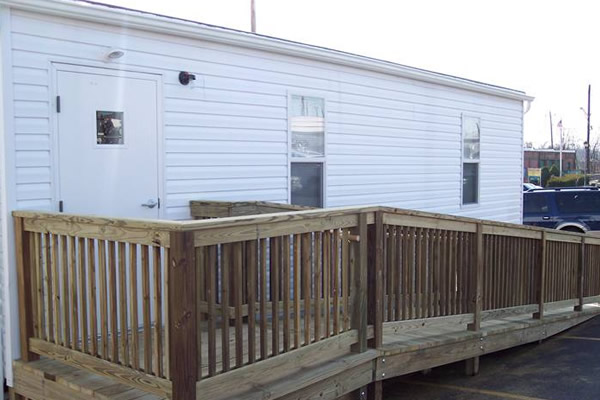 Studies indicate that 80% of job-sites are not ready for work until 3 to 10 days after delivery of the portable office space. In addition to the completed structures, many modular building companies offer exterior and interior accessories that will have your staff up and running immediately upon delivery, such as:
OSHA, ADA/IBC and custom stairs, wheelchair ramps and walkways
Skirting to protect the trailer from weather, animals and insects
Security features, such as bars and screens, to prevent theft
Canopies and awnings for rain and sun protection
Partitions to divide the interior office space into work areas, storage and waiting/reception areas.
Furniture, including tables, chairs, file cabinets and desks
Customizable shelving
Single, double, triple and six tier lockers
Appliances, such as coffeemakers, refrigerators, microwaves and more
Data and communication hookups that can be pre-wired before delivery
Computer peripherals, such as printers and monitors
Whiteboards, dry erase and magnetic boards
Electrical and plumbing hookups
HVAC service
Landscaping and paving
Your staff can have everything they need on Day One to get started reviewing construction plans, holding team meetings, conducting training sessions, and staying productive.
Portable modular trailers are typically available in a wide variety of dimensions and square footage, with a variety of siding options, roofing materials, and wall and floor finishes.  They can be painted or sided on the exterior, and the interior floor plans can be configured to your specific requirements. Another major benefit is that they can be quickly reconfigured or even moved to a new location at minimal expense as your business needs change.
A portable office trailer can combine both architectural appeal and functionality while providing substantial savings in both cost and time. We recommend a visit to The Modular Building Institute's website to see their recent Awards of Distinction for relocatable modular solutions. The contest judges modular building manufacturers, dealers, and product and service providers on architectural excellence, technical innovation and sustainability, cost effectiveness, energy efficiency, and time to completion. You can enjoy a wide selection of innovative modular projects there.