You may be pleasantly surprised to find out what can be accomplished today with modular office space. Modular construction is faster, less expensive, less disruptive, and more environmentally responsible than conventional construction. Modular buildings have evolved far beyond the portable office trailers we remember from the past and, today, a modular office building is a smart, fast way to expand.
With the integration of 3D design software, modern state-of-the-art manufacturing technologies, and mechanized quality control, modular construction can now solve a wide range of residential, commercial and industrial needs, both temporary and permanent. In the case of office space, some examples of common uses include:
real estate offices
medical and dental offices
school administrative offices
law offices
executive suites
office complexes
bank offices
church offices
jobsite/ construction offices
security offices
High-quality design-to-occupancy modular buildings offer customizable floor plans with an unlimited number of designs and styles to meet your unique design specifications. They can be designed to harmonize with any surrounding environment using brick, stucco, or vinyl siding, and custom architectural features. When the National Park Service was in need of a modular ranger station on Assateague Island, Modular Genius designed and delivered a solution that blended beautifully with their Cape Cod location.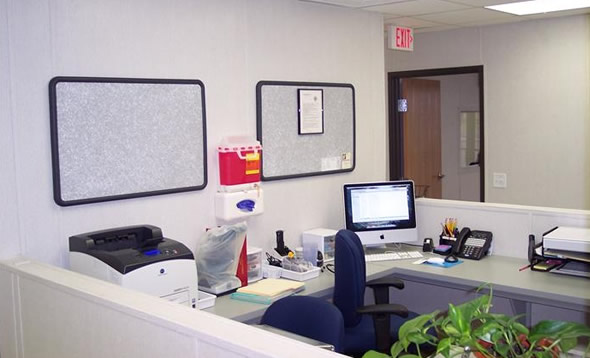 If your budget won't permit you to build what you want the conventional way, don't overlook modular offices. They can be designed in a wide variety of dimensions, square footage of under 1,000 square feet to more than 20,000 square feet, a variety of siding options, roofing materials, and wall and floor finishes, and are priced to provide substantial savings.
The factory manufacturing process is precise, energy-efficient and not slowed by poor weather. Grading, foundations, utilities, paving and some landscaping take place at the site while the modules are being fabricated in the factory. Customers experience less waste, controllable costs, and their strict deadlines can be met without the delays inherent in traditional construction projects.
When you need a permanent or temporary solution to expand or to replace a stick-built building that needs too much maintenance, no other method of construction can provide a faster solution than modular office buildings. And, as you grow, the structures can move with you or be easily expanded.
Modular structures adhere to the same building standards and occupancy codes as conventionally built structures and are equally strong.  Since they have to be transported by truck to the construction site, special consideration is given to building them to withstand wind and poor weather. With proper care and maintenance, modular office buildings can last 25 to 30 years.
Another advantage is that you can balance cost and environmental concerns. New modular building units are LEED-certified. They are durable, fire-resistant and mold-resistant. They can be enhanced with energy-efficient utilities, eco-friendly insulation, no-VOC or low-VOC (volatile organic compounds) interior wall and floor treatments, or efficient automatic sensors for lights and heating systems to make them exceptionally eco-friendly.
Modular offices can stand on their own as individual units or be combined to create large structures. Even multi-story structures larger than 100,000 SF, complete with elevators, are possible.  And you can always add on to your modular office space when you need to expand without breaking the bank.