Most people are familiar with traditional mobile offices that appear on nearly every construction site. The ability to build and relocate them quickly makes them indispensible for commercial builders. However, modular office trailers are also ideal for in-plant buildings and field offices, and offer the following advantages:
Durability
Portable modular structures are built to the same standards as conventionally built structures and are equally strong.  They adhere to the same building and occupancy codes. Due to the fact that they must be transported by truck to the construction site, extra attention is paid to their ability to withstand wind and poor weather along the way. With proper care and maintenance, modular trailers can last 25 to 30 years.
Cost-effectiveness
Not only are the costs of prefabricated offices about 20% lower than their stick-built counterparts, time is money, and modular buildings can be delivered in about half the time. Plumbing and electrical wiring are pre-installed, and quality control inspections are completed before the modules are delivered to the site at about 80% to 90% completion. This reduces the need for multiple subcontractors when the structure is put in place. So it is a wise move to consider buying used modular buildings if you are on a budget.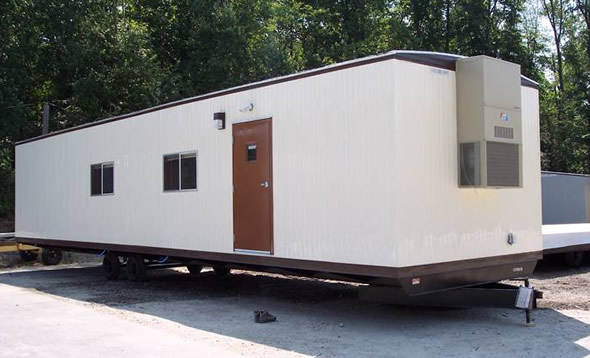 Speed of construction
Customers can generally occupy a modular office about 50% sooner than a conventional building, so modular trailers are an ideal solution for jobsites where there is an urgent need for space. Plumbing and electrical wiring are pre-installed, leaving a minimum of work to be done on delivery. Modular Genius in Joppa, Maryland, constructed, transported and assembled single-wide modular office cabins in a remote location in Alaska in about 60 days.
Eco-friendly and sustainable
Modular offices allow you to balance environmental concerns with cost. New modular units are often built with recycled steel, making them strong, fire-resistant and mold-resistant, and they are LEED-certified. Customers can choose from a variety of green elements to enhance the indoor air quality and environmental friendliness of their eco-friendly modular buildings, such as energy-efficient utilities, eco-friendly insulation, no-VOC or low-VOC (volatile organic compounds) interior wall and floor treatments, or efficient automatic sensors for lights and heating systems.
Flexibility
Another important feature of modular offices is their flexibility.  Modules can stand on their own as individual units or combined to create larger structures. They can even be multi-story structures in excess of 100,000 SF, complete with elevators. Customers can easily add on modules when the need for more space arises.
Easy to move
Modular offices are typically available for immediate delivery. They are usually moveable by forklift and can be easily moved to another location when no longer needed, an option that is obviously not available with traditional stick-built structures.
Unlimited design options
Today's state-of-the-art design and construction technologies mean that you can purchase modular offices that are both functional and attractive, and blend seamlessly into their surroundings.  There are a wide range of choices for exterior and interior designs and floor plans.  Single and multi-story designs can be designed to suit any conceivable purpose, with exterior finishes such as brick, stucco, siding and other architectural surfaces.
Mobile office trailer design options are virtually unlimited, and the finished structures are difficult to differentiate from conventionally built buildings. For example, take a look at one of the Modular Building Institute's Awards of Distinction for a relocatable office design at White Sands Missile Range. Consider modular as an option when you need high-quality temporary office space.