Modular offices are an excellent alternative to conventional stick-built offices in military applications. They are portable, affordable, and can be deployed quickly to serve an immediate need anywhere in the world.
Whether intended to be temporary or permanent, modular buildings are ideal for military offices and administrative space, training space, classrooms, storage, equipment shelters, and Sensitive Compartmented Information Facilities (SCIF), as well as for barracks and dormitories, kitchens, dining facilities, and showers.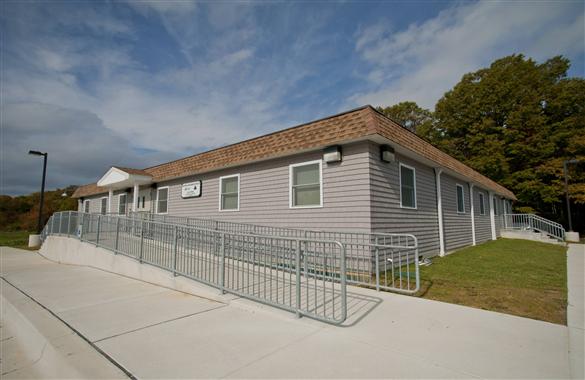 Modular Military Applications
A Modular Building Institute article entitled "Military Goes Modular" discusses some of the unique military applications for modular construction that have been deployed at the U.S. Army's Fort Dix and the U.S. Coast Guard's Air Station Elizabeth City, N.C.
Another example is the MILCON Unaccompanied Enlisted Personnel Housing (UEPH) Advanced Individual Training (AIT) Barracks at Fort Sam Houston in San Antonio, Texas. The 116,480-square-foot modular construction project involved a 272 room, 4-story modular building. The barracks facility houses U.S. combat troops and was built to meet the Army's rigid Anti-Terrorism Force Protection (AT/FP) construction standards and progressive collapse requirements for buildings three stories and above. The building achieved LEED Silver.
Modular Genius, a GSA Schedule Contract Holder GS-07F-0124W in Joppa, MD, has completed many modular building projects for various branches of the U.S. military, including a "green" temporary prefab office building at the U.S. Air Force's Andrews Air Force Base, a cafeteria/command center at the U.S. Army's Aberdeen Proving Ground, and large administrative support facilities for the U.S. Navy's Patuxent River Naval Air Systems Command. They also received a 2013 Award of Distinction from the Modular Building Institute for a dormitory built for the U.S. Coast Guard at Aviations Logistic Center Elizabeth City.
Advantages of Modular Construction
When faced with rapid troop movement and urgent training requirements, often in remote locations, modular construction offers numerous advantages compared to design-bid-build projects.
Can be built to meet Federal government standards for all specific mission requirements, including DoD Minimum Antiterrorism Standards
Completion time is 40% faster than stick-built structures
Can be manufactured, delivered and installed at a prepared site in a matter of weeks
Controlled factory environment minimizes risks from volatile weather, material shortages, vandalism and theft
Minimal on-site disruption reduces security risks
Higher quality than conventional site-built projects, particularly in areas of the world where skilled labor is unavailable
Architectural designs can complement those of existing buildings
Innovations include bullet-resistant glass, proximity and position-monitoring door hardware, and pre-wiring for TV and data communication
Modules can be securely wrapped and transported from the closest manufacturing facility to a US shipping port for shipment overseas
Can be quickly moved and reconfigured, or eliminated when no longer needed
Competitive pricing and measurable financial benefits over the life of the facility
Unlimited number of designs and floor plans available
Whether you need permanent or portable offices, training centers, barracks, health clinics, or other specialized military facilities, innovative modular buildings can provide an accelerated solution at a fraction of the cost.