Modular construction is faster and less expensive compared to traditional stick-built construction. Modular buildings can help you create state-of-the-art healthcare facilities to serve patients, doctors and hospital staff.
These temporary or permanent buildings can be completely customized to meet your needs. From digital imaging facilities to medical office space to testing labs to patient rooms, nothing is too large or difficult. Modular construction is the quickest way to expand the footprint of your healthcare center with minimal site and patient disruption.
Design them as standalone buildings or add on to your current medical facilities. An unlimited number of design options enable the modules to blend with the existing architecture of neighboring buildings.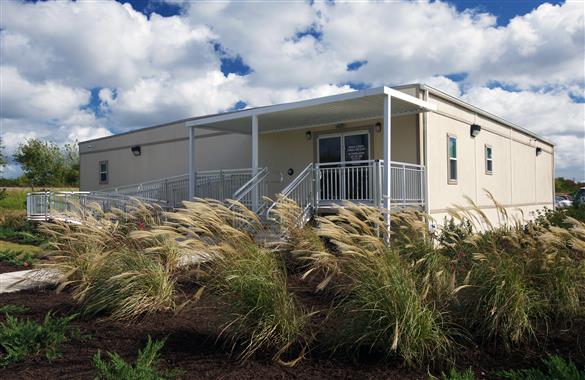 Award-Winning Modular Designs 
LSU Interprofessional Primary Care Clinic
Modular Genius in Joppa, Maryland, won a 2016 Award of Distinction from the Modular Building Institute for the 3,535 sq. ft. temporary healthcare clinic they built for the Louisiana State University Health Sciences Center in New Orleans.
The Interprofessional Clinic for the School of Dentistry and Nursing was needed quickly to serve the community. The modular building was designed to match similar visual aesthetics of the surrounding campus.
Off-site construction included installation of features inside the building, such as laminate counter tops, exam room sinks, counters, cabinets, plumbing, electric for dental chairs, and interior finishes such as floor covering and drop ceilings.
The Ida G. Israel Community Health Center
Another 2016 Award of Distinction winner in the healthcare category was the Ida G. Israel Community Health Center, which was built to replace a clinic lost in Hurricane Sandy. The building incorporates dental, behavioral health and substance abuse clinics that meet the stringent NYC building codes and Dept. of Health regulations.
The building was designed with minimal interior columns to allow for maximum flexibility in use. It featured high-efficiency, energy saving interior light fixtures with occupancy sensor controls in all rooms, low VOC paints, high-efficiency natural gas HVAC units, a reflective white modified Bit roofing and large windows for natural day lighting with insulated glazing.
The clinic meets the critical HVAC requirements of a healthcare facility by utilizing roof top air handlers, VAV boxes and supplemental cooling systems for IT/Data, all of which are controlled by a state-of-the-art building control system.
Flexible Applications & Fast Completion
Healthcare facilities already struggle to accommodate new treatments and technologies within tight budgets. Modular designs add a level of flexibility that can result in less down time and increased revenue.
The turnaround time between design approval and occupancy of a modular building is at least 40% faster than conventional design-bid-build structures and can often be completed in as little as eight to ten weeks.
Modular solutions are ideal for:
Medical / Dental Office Buildings
Acute Care Treatment Centers
Ambulatory / Outpatient Facilities
Skilled Nursing Facilities
Diagnostic Imaging Facilities
Emergency Room Expansions
Dialysis Centers
Physical Therapy Centers
Rehab Centers
Community Wellness Centers
Pharmacies
Waiting Rooms
Laundry Facilities
Gift Shops and Retail Space
There is literally no type of healthcare building that cannot be designed and manufactured in a modular manner, and you may be surprised at the many benefits they can offer. From medical and dental clinics to research laboratories to community hospitals, modular buildings allow organizations to reduce costs, enjoy a higher return on investment, and accelerate construction timelines.